Save Medicare Sydney is an open community campaign group dedicated to defeating the Liberal Coalition government's plans to bring co-payments and user-pays into our health system.
We support a well-funded public and universal health system paid for through progressive taxation. This is not only the most equitable way to fund primary healthcare, it is also the most effective and efficient. 
We meet fortnightly in central Sydney and organise events and demonstrations designed to force the government to drop its plans.

We say:
Keep Medicare Universal:
–       Bulk-billing for all
–       No to a 2-tiered US-style system
Keep Medicare Public:
–       Co-pay NO WAY
–       No to the privatization of Medicare processing systems
–       Keep Private Health insurance out of the GP sector
Keep Medicare fully funded:
–       No rebate cuts or freezes
–       Fully restore Medicare rebate levels
–       Fund Medicare through the tax system where those who can afford more can pay more.
More Medicare, not less…
–       Universal access to dentistry, caps for specialist fees, bring down prescription costs.
Join Save Medicare Sydney!
We need to send a clear message to the Abbott government that people are not going to stand by while our public health care system is white-anted.
Get in touch with the campaign and help us get the message out in your workplace or community:
Visit Facebook https://www.facebook.com/savemedicaresydney
Twitter @Save_Medicare
This site http://savemedicare.org/savemedicaresydney/
Add your email address to the Save Medicare Sydney notification list
or call Jean on 0449 646 593
News Feed
For more frequent news, follow our Facebook site https://www.facebook.com/savemedicaresydney
By 2018 the ongoing rebate freeze will amount to a rebate cut upward of $3 for each GP visit. Pressure will be put on GPs to charge patients in order to make up the shortfall. GP "rebate freezing" is a "back door" method of undermining Medicare.
The Medical Journal of Australia calculates that the freeze will be the equivalent of charging an additional $8.43 copayment per non-concessional patient consultation in 2018 dollars ie MORE than the now abandoned $5 co payment.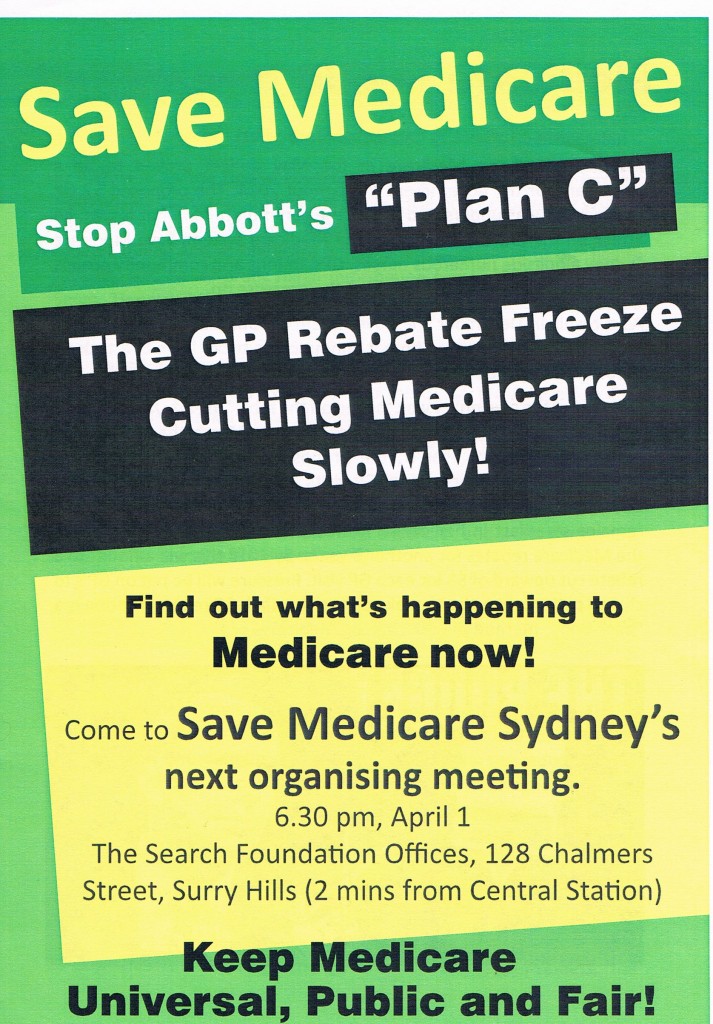 Posted 22nd March 2015
Save Medicare campaigners received a lot of positive feedback at yesterday's very successful Day of Action  BUT there was one problem, too many people had only read the media headlines and  the most important headline was never published:
Abbott keeps creeping co-payment. With rebate freezes extended to six years, rising costs will  force GPs to abandon bulk billing.
Posted 5th March 2015
We've had a great win against the GP co-payment today, with Minister Sussan Ley declaring the government has scrapped it's latest "Plan B" co-payment plan. But not only is the Medicare rebate freeze still in place, it's clear the government is cooking up a PLAN C attack on Medicare!   Click to read or download our media release People power wins victory in battle against co-payment, but war for Medicare far from over
Posted 3rd march 2015

Join Save Medicare Sydney from Midday, Wednesday 4th, at the top of Martin Place to March for universal healthcare and celebrate our win against the GP co-payment.  Click the image below for a printable pdf containing all the pages of the leaflet.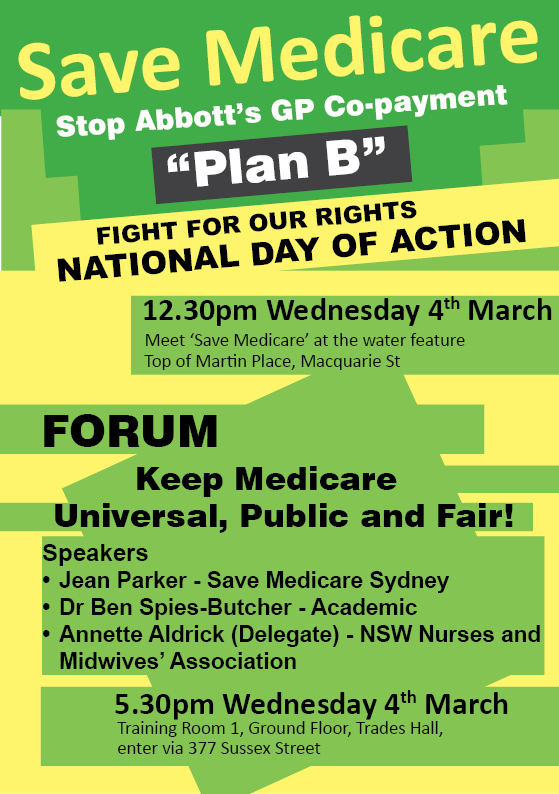 Posted 3rd March 2015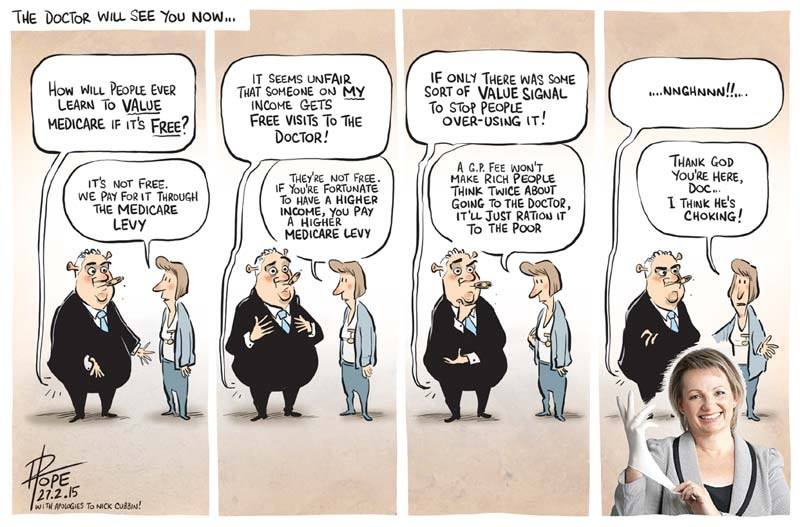 Posted 27th February 2015
Back